Civil
District
The District Division of the Isabella County Trial Court has jurisdiction over Small Claims (claims not exceeding $6,500.00), General Civil Complaints (claims not exceeding $25,000), Landlord-Tenant disputes and Land Contract forfeitures.
Circuit
The Isabella County Trial Court, Circuit Division, has jurisdiction over civil cases seeking injunctions, equitable relief, or money damages exceeding $25,000. The Circuit Court also handles appeals from District Court.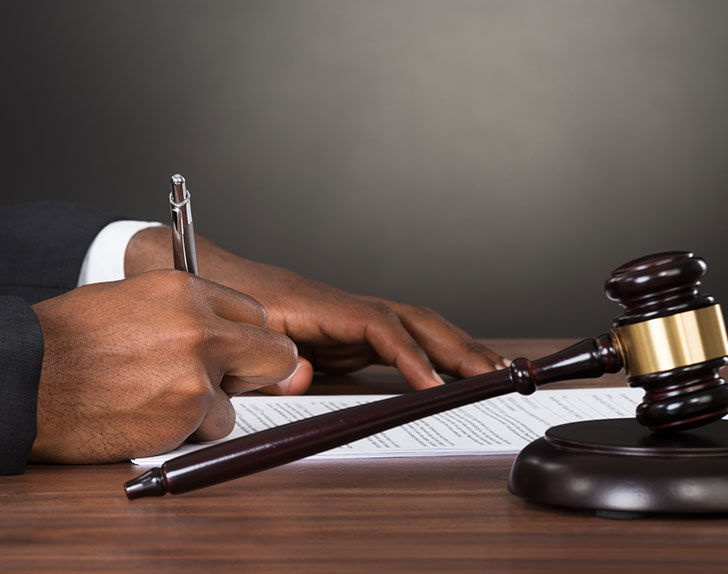 Civil Court Forms
Several forms are available from the Trial Court Business Office free of charge. There is, however, a limit of 5 forms per request per week. All forms are approved by the State Court Administrative Office.
You may download (at no charge) approved forms by visiting courts.michigan.gov. Complete the forms and bring them to the court for filing. Because some filings require multi-part forms, it is important that you provide all the necessary copies at the time of filing.
Notice of Legal Advice
All employees of the Isabella County Trial Court are forbidden by law to give legal advice. They must remain neutral and cannot recommend a particular course of action or attorney. Only litigants or their attorneys can make that determination. Court staff also has a duty to remain impartial. They cannot provide information or guidance for the purpose of favoring one court user over another.
All legal questions should be referred to an attorney. To find an attorney, check the yellow pages for an attorney in the area. Additionally, the State Bar of Michigan offers a lawyer referral service. The phone number is 1-800-968-0738, or visit their web site.
Landlord / Tenant Disputes
Information regarding Landlord and Tenants rights may be obtained by visiting the Michigan Legal Help website or contacting an attorney.
For further information, contact the Civil Division Coordinator, at (989) 317-4219.
Alternative Program for Dispute Resolution (ADR)
The Isabella County Trial Court offers an Alternative Dispute Resolution (ADR) program. All small claims, landlord tenant disputes, and other eligible cases are referred into dispute resolution on the day of the hearing. This program is specifically designed to help resolve issues pertaining to small claims and landlord tenant disputes and is available to all court users.
We recognize everyone has the right to have a matter heard by the Court however, we strongly encourage litigants to participate in this extremely effective mediation program. All facilitators are trained and experienced professionals meeting or exceeding state standards. The process usually involves one or more sessions with a trained and/or experienced facilitator who acts as a catalyst for dispute resolution. The facilitator asks questions, helps define issues, opens channels of communication, and assists in generating alternative settlement proposals and solutions. The facilitator does not evaluate or place a monetary value on the dispute.
Advantages for participants: direct control over resolution of the dispute, direct influence over the outcome, cost management, written agreements which are enforceable, greater speed in resolution of the dispute, no penalties if an agreement is not reached, does not prevent further court action, cases are held confidential. ADR provides clients, attorneys, and organizations greater flexibility in resolving disputes for all parties.
Typical cases for facilitation include: merchant/consumer, landlord/tenant, professional/client, neighborhood disputes, victim/offender, school, property damage, contested estates, family/sibling, farmers, guardianship, probate/juveniles, divorce, domestic relation disputes or other civil disputes, as evaluated by the Civil Division Coordinator, ADR Coordinator, and local community trained volunteers.
The filing process is the same whether the case will be handled by ADR or in a courtroom. In electing to participate in this program, litigants will be given an opportunity to resolve their dispute. On the day of the hearing, the parties meet with community based facilitators in an effort to resolve the dispute in a manner acceptable to both parties. Depending on the outcome of the session, the court would prepare a Consent Judgment, Dismissal, or extend the case to allow settlement terms or case action to occur. During this period, court staff and the case facilitators will be available to assist in settling the claim.
For further information regarding the Alternative Dispute Resolution Program contact the following coordinators:
Julie Willoughby, Civil Division Coordinator
(989) 317-4219
Small Claims
Filing Fee
Claim up to $600.00
$30.00
Claim from $601 – $1750
$50.00
Claim from $1751 – $6500
$70.00
Certified Mail Fee
$15.00
Garnishment, Attachment, Request & Order to Seize Property, Judgment Debtor Discovery Subpoena
$15.00
Motion Fee
$20.00
Appeals/ Copy Fees
| | |
| --- | --- |
| Appeals from District Court | $25.00 |
| Certified Copies (Additional $1.00 per page) | $10.00 |
General Civil
Filing Fee
Claim up to $600.00
$35.00
Claim from $601 – $1750
$55.00
Claim from $1751 – $10,000
$75.00
Claim from $10,001 – $25,000
$160.00
Filing Fee – Other than Money Judgment Equal to Claims over $1750
$75.00
Jury Demand Fee
$50.00
Motion Fee
$20.00
Garnishment, Attachment, Request & Order to Seize Property, Judgment
Debtor Discovery Subpoena
$15.00
Summary Proceedings (Landlord Tenant/Land Contract Forfeiture)
Filing Fee
Possession of Premises
$55.00
Supplemental Filing Fee – For Money Judgement
Claim up to $600.00
$35.00
Claim from $601 – $1750
$55.00
Claim from $1751 up to $10,000
$75.00
Claim from $10,001 – $25,000
$160.00
Jury Demand Fee
$50.00
Motion Fee
$20.00
Garnishment, Attachment, Request & Order to Seize Property, Judgment
Debtor Discovery Subpoena
$15.00
Collection of the Judgment
If the judgment is not paid, either in full or to your satisfaction, within 30 days of entry, you may pursue collection by the following means:
Filing Fee
Garnishments
$15.00
Request & Order to Seize Property
$15.00
Discovery Subpoena
$15.00
Motion & Order to Show Cause
$20.00
Process Server Fee
Contact Sheriff's Office